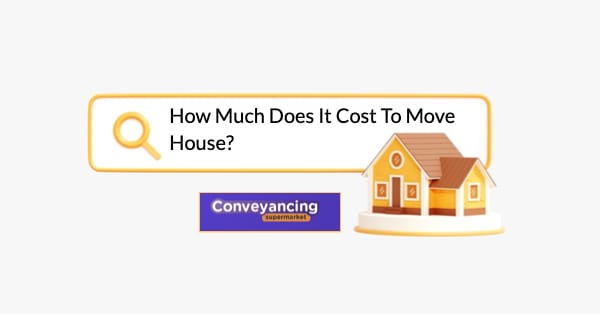 The True Cost Of Moving Home
This article addresses the true cost of moving home in 2022. It highlights some of the most important hidden costs of moving house, some of which you might not have factored into your impending move. We aim to give you a good idea of the overall layout you will face before even setting foot in your new home. We want to help you avoid any unwelcome financial surprises and acquite a genuine conveyance quote, whether you're a first-time buyer or a property investor. 
How Much Does It Cost To Move House?
Moving home can be exciting but expensive but sometimes, the hidden costs that you might not have been aware of, can put a slight dampener on things. In fact, Barclays estimate that the average cost of moving house in the UK is around £8,885, though of course this can vary depending on the area in which you live.
Stamp Duty
If you are buying a home in England or Northern Ireland which costs more than £125,000, you will have to pay Stamp Duty Land Tax (SDLT). If you are buying a second property for whatever reason, be it a holiday home or a rental property, you will be charged stamp duty if it costs more than £40,000. SDLT applies to both freehold and leasehold properties and you pay it whether you are buying outright or getting a mortgage.
In Scotland you are charged Land and Buildings Transaction Tax (LBTT) and in Wales it is Land Transaction Tax (LTT) rather than Stamp Duty.
Stamp duty is charged on the portion of the property purchase price falling within a specific band. 
| | | |
| --- | --- | --- |
| Minimum property purchase price | Maximum property purchase price | Stamp Duty rate (only applies only to that part of the property price that falls within each band) |
| £0 | £125,000 | 0% |
| £125,001 | £250,000 | 2% |
| £250,001 | £925,000 | 5% |
| £925,001 | £1.5 million | 10% |
| | Over £1.5 million | 12% |
So if you buy a house for £275,000, the Stamp Duty Land Tax (SDLT) you owe is calculated as follows:
0% on the first £125,000 = £0

2% on the next £125,000 = £2,500

5% on the final £25,000 = £1,250
Total SDLT = £3,750
If you're a first-time buyer in England or Northern Ireland, you pay no Stamp Duty on properties costing less than £300,000. This means you can save up to £5,000. For properties costing up to £500,000, you will pay no Stamp Duty on the first £300,000.
Conveyancing Fees
Conveyancing fees are what you pay to the conveyancing solicitor who conducts the legal aspects of your property transfer. Amongst their tasks they will: 
Liaise with the seller's solicitor 

Request and obtain a copy of your contract pack

Request and obtain a copy of your mortgage offer

Carry out the necessary

searches 

Analyse the results and raise any queries

Organise potential completion dates

Swap signed contracts with the other parties conveyancer

Transfer deposits with the other conveyancer

Prepare the completion statement and transfer deeds

Transfer the signed transfer deeds to the other parties conveyancer

Request payment of the mortgage advance from your lender

Organise the transfer of the balance

Submit a tax return and pay the required Stamp Duty to HMRC

Forward proof of the transfer of ownership to the Land Registry

Forward the title deeds to your mortgage lender.
Costs are classed as either Legal fees which are what you pay for the specialist work done (usually between £850-£1500) and Disbursements which are third party charges such as Local Authority Searches, Stamp Duty Land Tax, Land Registry, Environmental and Local Searches  paid by the solicitor on your behalf.
Quite often, conveyancing firms will offer a very cheap conveyance quote (initially) in order to attract customers. With any online conveyance quote, double check whether they have only quoted the base legal fee, missing out the disbursements. Again, VAT should be included in the initial bill. 
It is fairly easy to compare conveyance fees online. We advise you to compare every conveyance quote (online or otherwise) from several professionals before making a decision as there can be a huge discrepancy in the figures quoted. Online conveyance fees should be presented openly and comprehensively upon your request for a conveyance quote. Shop around online and examine the fees carefully. Make sure you compare like for like. See our guide on conveyancing fees to give you an idea of what conveyancers include in their fees and how much you should expect to pay. 
Estate Agent Fees
If you are selling a property through an estate agent, whether they be a  high-street agent or an online service, you will be charged fees. You will be charged either a percentage of the sale price (often between 1% and 3%) or a flat fee. 
Fees for online estate agents will vary, but can begin as low as £300. This might be charged as a flat rate, up front fee. Other pricing plans vary, and most offer payment on completion, but this can be more expensive. If you want them to conduct viewings, this can cost extra.
High street agents charge around 1.5% of the sale price, or a pre-agreed fixed fee. So even on a 1.5% commission you could pay £4,500 if you sell your home for £300,000. 
Surveys
Surveys are inspections that are carried out on properties that give you an idea of the state it is in. They highlight any issues and can save you money further down the line if you need to make repairs. It can also provide a bargaining tool should the results throw up any unexpected repairs needed and how much it will cost. There is more than one type of survey to choose from. Most surveyors provide three types of survey: a condition report, a HomeBuyers report and a building survey. 
A RICS HomeBuyers Report for the average UK home costs around £500, though it could be between £325 and £900 depending on the size of your home and where it is. The homebuyers survey cost will vary depending on the size, location and price of your house. Read all about surveys and their potential costs here.
Insurance
When you move into a new home you will need to take out buildings insurance, which covers you for any damage to the structure of the building. Most lenders insist on this in the terms of your mortgage. Buildings insurance can cover permanent fixtures like fitted kitchens, carpets and bathrooms. How much buildings cover you need must be enough to rebuild the property if it was destroyed (this is not the same as the price you pay for the property). Buildings insurance needs to start on the date you exchange contracts. If you are buying a freehold property, you need to arrange the insurance whereas the freeholder usually arranges it for leasehold properties which you repay to them. 
Contents insurance covers you for loss or damage to your personal possessions. Many providers are flexible and let you choose cover that suits your needs. You do not have to have this but it will protect you from costs if something unexpected happens.
Removals
In 2022, the average removal company costs are £1,181. This is the cost for a 3-bed house travelling 50 miles in the UK. This includes professional packing services and materials (£250), as well as the dismantling and reassembling of furniture at your new home (£125). (compare my move)
If you don't have a lot of big/heavy furniture, then hiring a self-drive van could be a good money saving idea. For smaller removals, a man-with-a-van service is likely to be cheaper than a removals company. In either case, check the mover is insured so that your belongings are financially covered if they get damaged in transit.
Our expert legal panel, made up of UK regulated solicitors and licensed conveyancers, can provide you with a fast efficient online conveyancing service and easy to understand conveyancing quotes/fees to help make your property transaction a straightforward process.
Compare and view conveyancing quotes online and Instruct directly or book a call from your chosen Conveyancer. Our price and service combined provides the best options for your legal needs.