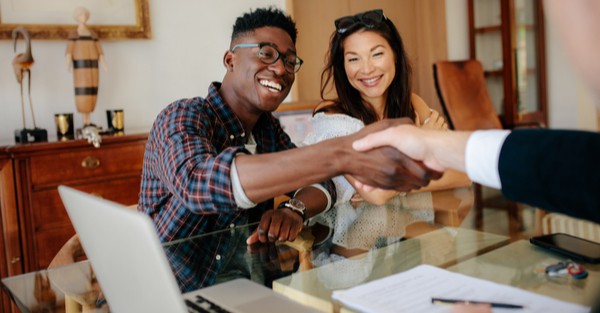 How To Get An Offer Accepted On A House?
Making an offer on a house is the first step towards securing a beautiful new home. It can be quite a daunting process, particularly for first time buyers who are brand new to the housing market. With so much money at stake, you want to get the best possible deal, however, doing this means seeking a fine balance between other factors such as the maximum price you can afford, what the seller is willing to accept and what is going on in the wider housing market. Misjudging the situation could mean losing your home to another buyer.
Buying a home can be stressful at times. This is especially true due to the UK's housing boom, where even the most ordinary and unassuming properties are being bought up at a rapid pace. Considering the state of the market, it would be in your best interest to ensure that deals get done quickly and smoothly.
Now, this is easier said than done as it can be quite tricky to make sure that your offer on the property that you've been eyeing gets accepted. Luckily, there are things you can do to improve your chances. If this is something that you're interested in, read on for a list of five tips that will help you secure your next home.
Compare the best conveyancing solicitors or licensed conveyancers here.. Get the best price and speed up your move whether you're buying, selling or remortgaging.
Set a Budget
Before you even start making offers on a house, it's best to set a clear and precise budget. While you may think that this limits your options, having an exact budget will show sellers that you are well-prepared. While this may seem trivial, it can be a difference-maker as sellers would rather deal with people who are serious about buying property as they would want to avoid buyers that will end up wasting their time.
Do Your Research
Before making an offer, make sure you know and understand the local market and be aware of  what similar properties in the area are selling for. You can check recently sold house prices for houses easily on many websites such as Zoopla or Rightmove.
Find local houses that have similar features to the one you are interested in and use the prices they recently sold for to judge whether your offer is reasonable and likely to be accepted.
Features that could affect the price of a house include:
Number of bedrooms and bathrooms
Location
Style/period/structural features
Outside space
Whether it has parking, adrive/ garage and/or a garden
Whether it has been recently renovated or modernisedLocal factors that can affect the price of a house include:
Proximity to amenities, such as shops transport links and doctors surgeries
Proximity to good schools
Demand
Infrastructure links (this has both positives and negatives)


Get Your Mortgage Agreement In Principle

If you're looking to secure a home fast, then you're going to have to be willing to put down a reasonable deposit. This is especially true if a property has more than one prospective buyer. A buyer's ability to put down a large deposit makes them more appealing to sellers. To add to this, putting down a large deposit will also benefit you in the long run as it usually means you'll get better rates and terms on your mortgage.

Understand the Market

It's vital that you understand the local market that you're trying to purchase a house in. Not only will this allow you to make better offers on a property but it also gives you a good idea about whether or not the property is fairly priced. The best way to do this is to compare all the currently listed properties with one another. This shouldn't be too difficult as most of the major property portals allow you to browse through their listing and see how much the properties in the area have recently sold for.

Form A Bidding Strategy

Your approach to bidding will depend on things such as:How much you can borrow on your mortgage

What you are willing to pay
What local properties are selling for
The desirable/essential features of each individual property
Your own personal preferences, like:

Whether you want a quick and easy purchase
Whether you're prepared to lose your house during negotiations so long as you get the best deal
There are couple of ways of going about making offers:
Make your best offer straight away – this could be under, over or at asking price depending on the circumstances
Make a lower offer under the asking price and begin negotiations
In certain circumstances, it may be worth making a lower offer initially. There will usually be room for negotiation even if your first offer is not accepted.You might make a lower offer initially when:
The area is less competitive
The house has been on the market for a long time
It needs work doing
You are simply looking for a bargain
You may also get away with making an offer below the asking price if the seller wants to make a quick sale and you are chain-free or a cash buyer.
However, there is always a risk ; the seller may receive a higher offer or they may be insulted if the offer is too low. So long as you are prepared to take the risk, there is no harm in going in under offer.


Find the Right Conveyancing Solicitor

Lastly, we suggest that you find the right conveyancing solicitor and have them at the ready. The last thing you want is to miss out on a property due to a delay caused by your lack of preparedness. By having a conveyancing solicitor in place for moving into a property, you will be able to begin the process of purchasing property much more quickly. This not only makes it easier for sellers but it also shows them just how serious you are about purchasing the property.

If your offer is accepted, contact the estate agent and ask them to take the property off the market, particularly if the seller accepted an offer under the asking price. This will reduce your chances of getting gazumped.

The estate agent may be reluctant to remove the property but they should at least mark it as 'sold – subject to contract'.

Also, don't be afraid to change or withdraw your offer if you need to. Ultimately, so long as your mortgage lender agrees with the value of the property, the 'right' offer on a house will be what you are willing and happy to pay. Even after you have made an offer and it has been accepted, you can withdraw or change your offer right up until the exchange of contracts.

So,for example, if your searches and surveys come back and reveal that the property has many issues, you may be able to negotiate a lower price to account for these costs. Be aware that if you try to lower your offer, the seller might not agree.

Alternatively, you could ask the seller to do the work themselves and if they refuse, you are within your rights to withdraw your offer.

Compare conveyancers and conveyancing solicitors easily and Get the best price and speed up your move whether you're buying, selling or remortgaging.

Conclusion

We hope these tips prove to be useful when it comes to helping you secure a house. While house hunting can be rather daunting, making the necessary preparations makes the entire process infinitely easier. If you have more concerns regarding this topic, it would be best to consult with a professional.

If you're looking to compare conveyancing quotes in the UK, Conveyancing Supermarket has you covered. We'll provide you with free and instant quotes to help you get the best price whether you're buying, selling or remortgaging. Contact us today!