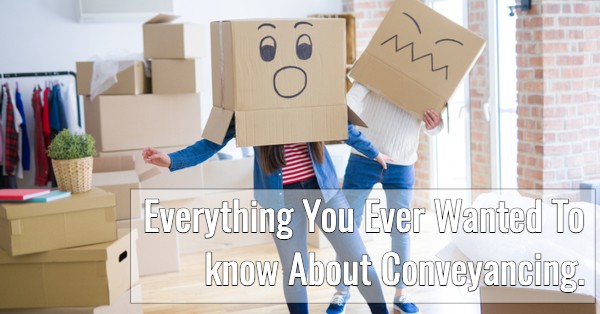 Your Step-By-Step Guide To Conveyancing
It has been a while since we have created a comprehensive guide to the conveyancing process so here you are! Compare conveyance costs for free today
Conveyancing is the legal process of transferring property ownership from one person to another. Once an offer is accepted on a property, your conveyancer will begin the process of completing all the relevant paperwork, make sure all contracts are eventually signed, and that money transfers are completed on time.
Our panel of Conveyancing experts act on behalf of both buyers and sellers. 
Do I Need A Conveyancer?
Buying, selling, remortgaging or transferring the equity in a property, requires a licensed Conveyancing solicitor to meet the necessary legal requirements. They will oversee all aspects of conveyancing right through to the transfer of deeds to ensure that no legal issues arise along the way.
They will oversee everything, including:
Issues relating to boundaries exposed by plans of the property

Paperwork not registered properly

Clauses in contracts included by other parties

Potential fraud issues if the property transfer is used as a front for an illegal transaction
First Steps
When you first instruct a conveyancer to take on your purchase/sale/transfer of equity, they will draw up a draft contract, also known as terms of engagement. It sets out all charges and any deposits required. Many firms offer fixed fee expert conveyancing which means you know the legal fees you will pay from the outset. Always compare conveyance costs before instructing.
Your conveyancer will also communicate with the other party's conveyancing solicitor to confirm they are instructed. They will request a copy of the draft contract plus any other details, such as the title  deeds and other standard forms.
Legal Work
Your conveyancer will examine the draft contract and any other supporting documents. Queries will be raised with the other party's conveyancer. You will be required to go through certain forms that the other party has completed. Any queries can be addressed by your conveyancer. 
They will check the tenure of your new home and look for any other possible issues that may arise in the future and work to smooth them out before they get a chance to become problematic.
Property Searches
If you are purchasing a property, your solicitor will conduct a series of legal searches that ensure there are no other issues to be aware of. Some searches they will recommend, others will be required by the mortgage lender to protect their investment. 
Searches may include:
Local Authority Searches

: They will order searches of the

local area

for any plans that will affect the value or condition of your property, now and in the future. For example, plans for a motorway being built through your back garden would seriously impact your decision to follow through with the purchase as well as the future value of your property.  This search costs between £70 and £400 depending on the Local Authority and usually takes 1-2 weeks, but can take up to 6 weeks.

Checking The 'Title Register' And 'Title Plan' At The Land Registry

: These are the legal documents proving a seller's ownership. The

title register check

costs £3 and the title plan check costs £3. Both are legally required to sell.

Food Risk

: this can also be done at the Land Registry. If you get an Environmental Search it may be included in that.

Water Authority Searches

: This investigates your water source and if any public drains on the property could potentially affect extensions or building works. This will cost between £50 and £75.

Chancel Repair Search

: This checks for potential leftover historic financial  liabilities on the property which helps pay for church repairs. This is a necessity and costs £18. You may choose to take out Chancel repair insurance instead for £20 or thereabouts. The laws around Chancel repair were updated in October 2013 so the onus is on the Church to establish and lodge liability with the Land Registry.

Environmental Search:

This is nearly always made on property transactions. The report will give information on,

Contaminated Land in or around the Property

Landfill Sites

Former and Current Industry

Flooding Predictions

Radon Gas Hazard

Ground Stability Issues and other related information.

This costs approx £50 to £60 including VAT.
Optional/Location Specific Searches: Sometimes we may suggest that extra searches are needed or recommended. This will be dependent on the location or type of property you are buying or due to particular concerns raised by you.  These could include:
Mining searches in Cornwall

Mining searches in various parts of the UK and Cheshire Brine searches

Additional Local Authority Questions such as Public Paths, Pipelines, Noise Abatement Zones, Common Land, etc.
Compare conveyance costs.
Conveyancing And Your Mortgage
Ideally, your mortgage offer will be in place prior to making an offer on a property. It is your responsibility to ensure you have the financing available for a mortgage deposit. You will pass on a copy of your agreement to your solicitor and they will examine  the conditions.
A mortgage valuation will be carried out on behalf of the mortgage company so they know the property provides sufficient security for the loan. You will pay for this unless included in the mortgage fees. Some mortgage companies include it in the fee to attract business.
You may have any other necessary surveys done depending on your specific circumstances.
Before exchange of contracts is made, your lender will require you to get Buildings Insurance for your new home. You are responsible for the property as soon as contracts are exchanged.
Different mortgages require different deposits. Even if you put down a deposit of less than 10% you are still liable for 10% of the value of the property if you later pull out of the agreement. Therefore if you pay a 5% deposit and pull out of buying the property you will not only lose your deposit but also legally owe an additional 5% of the value of the property.
Signing Contracts
After receiving the draft contract from the seller's solicitor, the buyer's solicitor will communicate what is involved. Before anyone signs, they must ensure that:
All enquiries have been returned satisfactorily .

All agreed fixtures and fittings agreed are included.

A completion date is  agreed between parties. This can be anywhere from 4 to 12 weeks after exchange of contracts.

Arrangements have been made to transfer the deposit into your solicitors account, so that it clears in time for exchange. 
Exchanging Contracts
You and the other party will agree on a date and time to exchange contracts. This is usually done by both parties' conveyancers reading out the contracts over the phone (which is recorded) to make sure they are identical.  They are immediately sent to one another in the post.
If you are in a chain the process is the same; only if all the other people in the chain are ready can the transactions go ahead. If one person pulls out or delays, then everyone in the chain is affected.
Once contracts have been exchanged you will be in a legally binding contract to buy the property with a fixed date for moving. This means that:
If you do not complete the purchase, you will lose your deposit. If the deposit was less than 10% you will owe the seller more.

The seller has to sell or you can sue them.

The seller can no longer accept another (higher or more appealing) offer.
Between Exchange And Completion
Between Exchange And Completion your solicitor will lodge an interest in the property which will mean the deeds to the property are frozen for 30 working days. This allows you to pay the seller and lodge your application to the Land Registry to transfer the deeds into your name.
They will also send you a statement showing the final figure to pay. Payment must clear at least one day before completion.
Completion normally happens around midday on the specified date. In practice, it takes place when the seller's solicitor confirms that they have received all the money that is due. Once this happens you are ready to move!
After Completion there will be some loose ends to tie up: Paying Stamp Duty Land Tax for example. Your conveyancer will:
Send the required documents to the Land Registry. (You receive your legal documents around 20 days after completion).

Send a copy of the title deeds to your mortgage lender. They will stay here until you have paid your mortgage in full. 

Notify the freeholder if the property is leasehold

Send you a bill.
Compare Conveyance costs
Compare conveyancing quotes with our conveyancer fees calculator. Save Hundreds With Our Fast, Free And No Obligation Conveyance Quotes. No Hidden Fees, Get Moving Today.
When you compare conveyance costs you will want to know you're securing a competitive conveyance fee.  We ensure all our quotes are from efficient property lawyers to ensure a smooth and quick completion. Use our conveyancing calculator and get the best conveyancers fees now. All our quotes are like for like and include all fees and disbursements.
What Will My Conveyancing Quote Include?
A conveyancing quote should include basic fees, disbursements and expenses. Basic fees are the general solicitors fees. Disbursements and expenses are costs that are incurred and passed onto you. These might include:
-Local Authority Searches

-Stamp Duty Land Tax

-Land Registry

-Environmental and Local Searches.

-Expenses have VAT added and include; electronic ID verification, telegraphic transfers and shared ownership issues or new build properties.