Moving House Timeline and Checklist
When you're moving house, it is easy to succumb to unnecessary stress. It is never going to be an easy job but it doesn't need to be chaotic or stressful if you give yourself enough time to sort everything that has to be done.
As with anything that needs doing properly, the key is in the preparation and organisation. We have put together a fully comprehensive moving house checklist combined with a house buying process timeline for UK transactions. It is easy to follow and contains all the info you need to make your move run smoothly.
Preparation
The early stages of the moving involves extensive research. Learn about your new area, the legal processes involved in your move, removal companies. Really look into these topics in plenty of time. It's best to know what to expect.
Once your offer has been accepted it is time to compare quotes and select your Conveyancing Solicitor. It is essential to do this early on. It is the best way to ensure a smooth legal transaction. You should also spend some time to researching the facilities and amenities of your new area.
To make things easy we have created a checklist for this early stage of moving house.
Arrange your mortgage.
Research the area (if moving to a new area). Find out about local facilities.
If needed, now is the time to research local schools. Maybe you need to move to a new school. Maybe your current school records need updating.
If you are currently renting, inform your landlord.
Do you have any valuable possessions? Organise insurance for them.
Check if your insurance policy covers your move. It is possible your removals company can provide cover.
Make some to-do lists. Collate important numbers, dates and details of conveyancers/estate agents etc
With around 1 month to go you should have had a Chartered Surveyor inspect your new property. They should have informed you of its structural condition.
You will now be able to talk to your solicitor about exchanging contracts. Also discuss finalising your moving date.
Speak to your solicitor about exchanging contracts. Finalise your moving date.
Confirm your booking with your removals company. See our guide to removals. Ask about prices in advance. Check reviews or find a company word of mouth.
Organise storage facilities if needed.
Organise a deep clean of your new house. Maybe you will do this yourself. Maybe you would rather a professional company do the job.
Check you have adequate furnishings for your new home. Book carpet fitters/decorators/kitchen fitters etc if needed.
Start packing non-essential items.
Clear out the loft, shed, storage spaces… throw away/give to charity literally everything you do not need.
You need to appoint a removal company and assess technicalities at both addresses. Ie: consider the travel route and whether there is parking for a lorry.
Notify relevant utilities companies and switch home insurance to your new home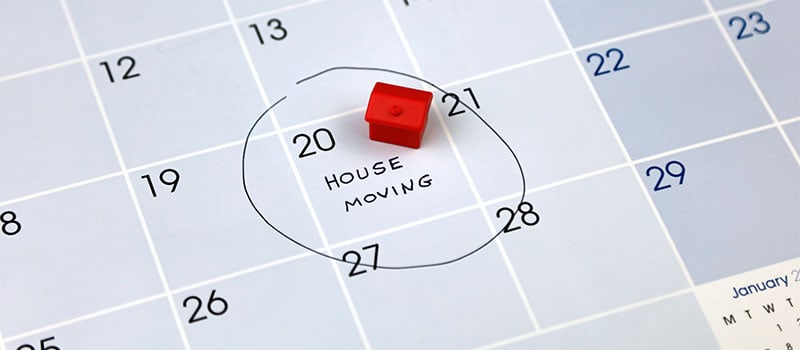 Organisations And Companies To Contact
Government Bodies
Update your address with the DVLA. Both your licence and vehicle registration need changing. Not before you move, as you may need your licence for identification and van hire.
Depending on your circumstances, you may also need to contact HMRC or the Department for Work and Pensions.
Ask your local authority for a final statement of your council tax. You may even get a refund. Don't forget to update your details on the electoral roll.
Contact:
Department for Work and Pensions
HM Revenue and Customs (HMRC)
Driver and Vehicle Licensing Authority (DVLA)
Electoral roll
TV Licensing
Your Local Authority
Financial
Banks, lenders and credit card companies need to know your new details. This includes current account and credit card providers. They may use your current address as a security check or to verify your identity.
Contact:
Banking and savings account providers
Credit card companies
Investment funds
Store loyalty card providers
Pension services.
Insurance Providers
You should notify your contents insurance provider of when and where you will be moving. Check with them what is and is not insured during the move. You may need to get additional insurance from them or the removals company.
Contact any companies you have insurance with, including:
Car insurance (and any breakdown services provider)
Mobile phone insurance
Pet insurance
Life insurance
Health insurance (including dental insurance)
Utility Suppliers
Tell your utilities providers the exact date you are moving. Take meter readings and photographs of them. Do this in both your old and new home.
Contact:
Water supplier
Gas provider
Electricity provider
Regular Bills
This means any company that provides a service you pay a regular bill for. This might be:
Home phone
Broadband
Cable TV
Mobile phone
Health Services
Let any medical organisations know you're moving. Register with your new local GP asap. There may be a delay in getting treatment if you don't.
Contact:
Local NHS GP surgery – register ASAP.
Dentist/optician/physio/chiropractor/counsellor etc…
Work And Education
The following people will need your most current address details:
Contact:
Your employers
company pension
Professional associations
Children's schools, colleges and educational institutions
Leisure
Update your subscriptions. Share your address with any organisations that might contact you via mail.
Contact:
Newspaper, magazine and newsletter subs
Clubs ie: sports teams / gym
Charities you support
Pet microchip databases
Vets
Redirecting Your Mail And Calls
It is a lot of work updating people with your new contact details.
You can make this process easier by using the Post Office change-of-address service. This can take up to 10 days to come into effect. It redirects all mail to your new address. You can keep this service for three, six or 12 months after moving.
If you are changing your phone number, you may be able to arrange for your telephone company to automatically inform callers of your new number.
Around
TWO WEEKS

To Go
Finalise removal details – confirm times, phone numbers, parking and directions
Pack sufficient medication for the moving period
Organise child and pet care for moving day
Book house cleaning, dismantling of flat pack furniture, plumber for the dishwasher and washing machines etc
Cancel local services you receive. Settle outstanding bills e.g. newspapers, gardeners, cleaners, window cleaner, milk deliveries
Use up freezer foods and other perishables
Around
ONE WEEK

to go
Gather all important items and documents in one place e.g. passports, driving licenses, house deeds, wills, insurance papers, jewellery and cash
Finish as much packing as possible. Be systematic
Write destination rooms on packing boxes
Arrange mail redirection service
Defrost freezer
Return any borrowed items
Give away items you won't be taking with you
Do all your washing of linen and clothing – box up and label
Organise payment for your move
Budget for emergencies
Inform friends and relatives your change of address
Arrange a time to collect keys to your new home from the Estate Agent
The
DAY BEFORE

You Move
Charge your phone!
Walk around your house for a final, thorough check
Pack an overnight bag for the family. Make sure you have toothbrushes, pyjamas, wash bag, medications, clean underwear, make-up and towels handy
Make sure you have the keys to your new house. Or collect them in advance Gather together keys for all locks from you old home. Maybe leave the new owners an list of which keys are for where
Inform friends and relatives the time of your move. Find as many pairs of extra hands as you can
MOVING DAY
Record all utility meter readings: water, electricity and gas. Take a photo of the meters
Pack fragile boxes in your own transport
One person should stay until your movers have emptied the house. They should make sure you are happy everything is accounted for, You will have to sign as confirmation
Leave all keys for the new owners
Secure windows. Make sure utilities are switched off
Keep contact details for your conveyancer, estate agent and removal company
On
ARRIVAL

In Your New Home
Confirm what goes where. Give any special instructions to your removal company
Account for each item on your inventory. Check for damaged and missing items. Only sign once you are happy
Locate your essential items
Put your important documents in a safe place
Read utility meters in your new home. Again, take a picture
Check all the keys for the property work
Inspect the house and garden – make sure it is child/pet-proof if applicable.
Follow our Step by Step Process, Relax, Enjoy your New Home