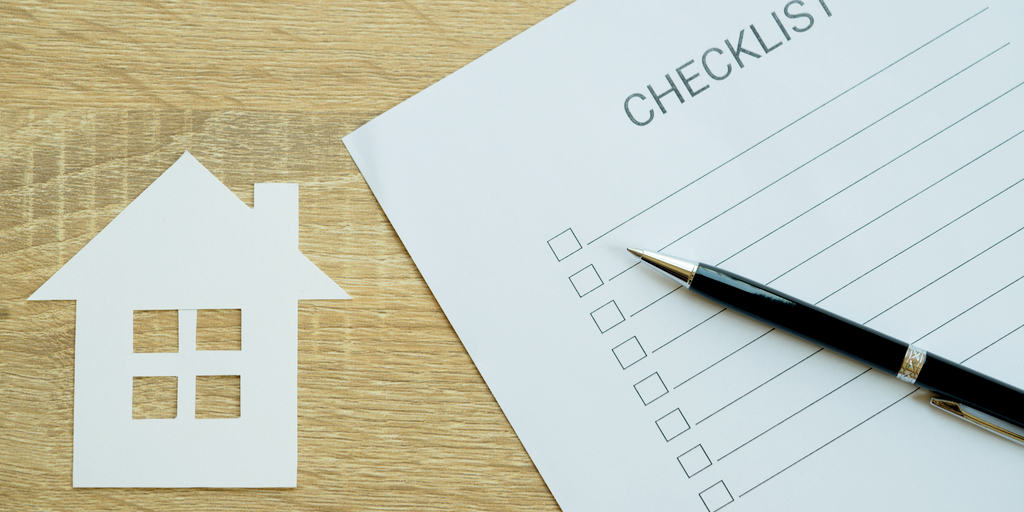 Checklist For Viewing A House
When we consider that buying a home is probably the biggest single purchase you'll ever make, a decision to put in an offer can happen very quickly and even after a single viewing.
This purchase is going to be your new home and an investment for your future. As such getting it wrong can be a costly mistake.
You might spend just 20 mins looking around and then have to decide if it's the house for you. It's more difficult than it sounds.
These Tips Will Help
Be Objective – try not to get swept away with the excitement of looking at potential new homes.
Bring Someone With You – a second pair of eyes never goes amiss and another opinion could raise things you haven't thought of.
Photograph Things – you'll be amazed at how easy it is to forget things you have noticed. Take photos of individual walls, windows and fixtures, even appliances. You might spot a fault later on that you missed initially that could be a deal breaker. (It's a good idea to ask the vendor or estate agents permission)
Arrive Early – take some time to look around the area, or sit outside the house and get a feel for the street and the neighbours.
Don't Rely On Your Eyes – follow your nose and you might be able to smell the musty scent of mould that's been painted over. You can also feel the walls for damp or hairline cracks that might be a sign of structural problems.
Ask The Seller
If you ask the right questions it might be useful when you're negotiating a price.
1.How Long Has The House Been On The Market?
If the house has been available for more than three months, have a think what could be putting people off. Is there an underlying problem or is it priced too high? The seller might accept a lower price if they have been waiting a long time to sell.
2. Why Are You Selling?
It makes a world of difference if the reason is for work purposes or a growing family than because of awful neighbours. Of course they're unlikely to tell you any negative features which is driving them away, but it is always worth asking.
3. How Long Have You Lived Here?
A string of short-term owners should ring alarm bells. Do your best to find out the history of ownership. Things can become apparent the more digging you do
4. What's Included In The Price?
Ask about white goods, large/bespoke items of furniture. They might be included in the sale… or you might require them to be taken. All these things are worth remembering in regards to price negotiation, either way.
Gardens and outbuildings might have shared ownership with the neighbours, so find out who owns what. It's important to know exactly what you'll get for your money.
5. How Much Storage Space Is There?
It's always good to know. Storage space is often overlooked and you haven't seen your belongings in the house yet. Will they all fit? Is there room for cupboards or shelves to be built in? Especially in newly built houses, storage space can be scarce.
6. Which Way Does The House Face?
It can sometimes be difficult to tell the difference between a north and south facing house/garden, but in summer it can make the difference between a home that is full of light and warmth, and one that is dark. The estate agent might be able to tell you this. If it is a sunny day, you might be able to see for yourself.
7. How Old Is The Roof?
Take a look at the roof, are there any gaping holes or missing tiles? Though not all shabby roofs are obvious to the naked eye. Replacing a roof is an expensive business. Newer roofs have a life expectancy of only 15-20 years, depending on the materials used.
Also, if the property has a flat or nearly flat roof, ask about how well sealed it is. Nowadays a membrane is used and is better than asphalt and gravel, which can leave seams and edges unsealed.
8. Can I See The Loft?
People often forget about the loft space, but it is an important part of the house. How easy is it to access? Is there much storage space? Could it be converted into extra rooms? Is it insulated/ boarded out? The latter can make a huge difference to your bills and general comfort in winter.
9. What Sort Of Boiler Do You Have?
New combi boilers can be thousands of pounds ao you will definitely want to know if you have to fit a new one or not. If there is a decent boiler already installed, ask if it is under warranty and whether it has been serviced regularly. These things can get pretty expensive if left unchecked. Check out what to consider when choosing a new boiler.
10. Are You In A Chain?
A chain can mean complications further down the line. If one part breaks, everyone suffers, so be aware of the state of the chain before you become a part of it. Chains can mean a longer process. You might be in one yourself already, if you are selling. Keeping everything out in the open and knowing where you are at always helps things run smoothly.
You might already know if the house is freehold or leasehold. If not find out from the seller or estate agent.
Check For Yourself
Are there any signs of damp/mould/condensation?
Even if you can't see any, can you smell it? This is something that a survey might pick up, but keep a lookout.
Is the property overlooked by neighbouring properties?
Stand in the garden and see how private it feels. Of course, this might not be something that bothers you, but it is always good to be aware.
Is there much scope for extending/renovating/adding value?
Something worth knowing for the future. It is also a good idea to have a look and see if any of the neighbours have extended. This can give you a good idea of what is possible.
What is nearby?
If you don't know the area so well you will want to ask the vendors what amenities are nearby.
Are you near a pub or bar that might be noisy the evening?
Are there any local shops within walking distance?
Is it easy to access public transport?
Are there busy roads or railways nearby?
Are you underneath a flight path?
Is there a local refuse tip in smelling distance?
Are you near a school that makes your road inaccessible at school run time?
Going for a second viewing
If you got a good impression the first time, arrange a second viewing on a different day and at a different time. In the meantime, it is always a good idea to drive past at different times. It can give you a good feel for the place.
You will see the neighbourhood at busier and quieter times, so you don't get hit with any nasty surprises after moving in.
Second viewings should be about practicalities. Take a tape measure, pen and paper.
Is there road noise, can you tolerate it?
Is there parking for your car/s?
Will your furniture fit? If not you will have the expense of buying it all again. Are the rooms fit for purpose – are they big enough? Measure your furniture and take a tape measure to map it out.
Does it meet the needs of you and your family?
It's easy to get distracted on first viewings by a beautifully decorated home, a new kitchen or landscaped garden.
If you decide this is the house for you, it's time to make an offer.
Competition can be strong so make sure you do as much research as you can before you view so you're ready to go.
Finally…
Can I Afford The House? Get a mortgage in principle early on. This way you know what you can afford right from the beginning. If you are in competition with other buyers it will put you in a strong position when making an offer.
Don't forget to budget for all other costs associated with buying a house, use our free calculators for legal, conveyancing and stamp duty costs.