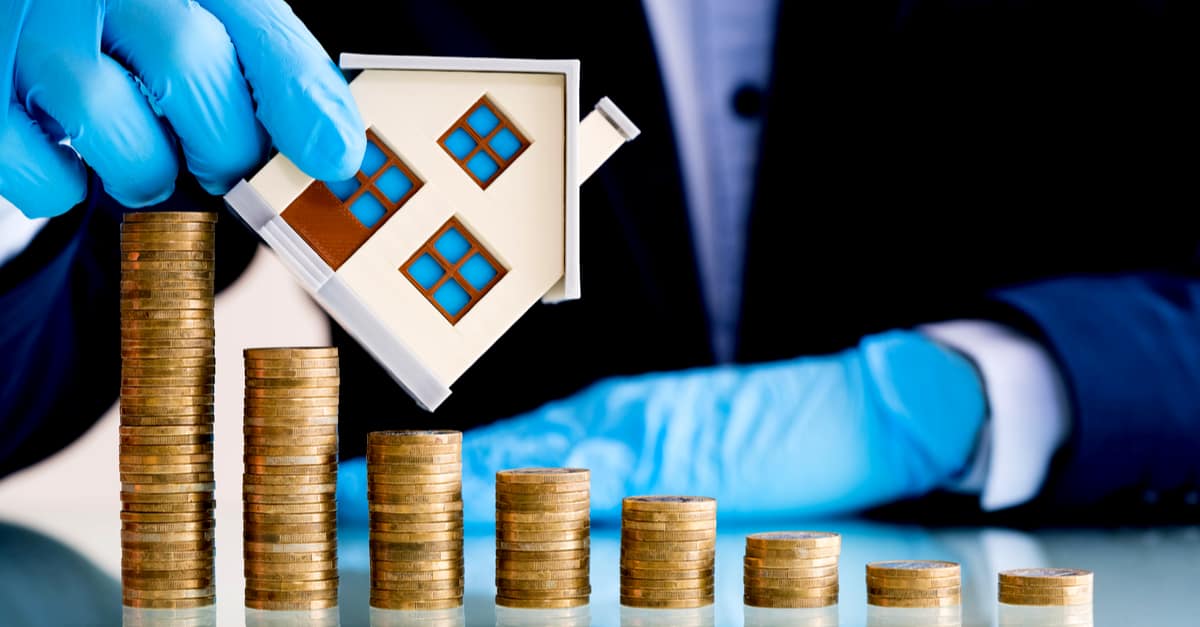 How is coronavirus affecting house prices?
The UK property market has been enjoying somewhat of a boom recently. However it is uncertain as to whether house prices will remain as high as they are right now once the government's stamp duty holiday ends in April.  Conveyancing Supermarket are here to examine what is happening to house prices and property sales during the pandemic.
The Current Property Market
UK Property markets have remained open during lockdown and estate agents have been able to conduct house viewings (with safety measures in place of course). Buyers are able to move home so in effect, it is unsurprising the market is still in full flow.
With regards to movement, the UK property market has seen a rise aided by the government's temporary stamp duty break and transaction figures have risen significantly. HMRC predict that 129,400 property sales completed in December 2020, an increase of 32%.
However, since the tax break is due to end very soon, this increased activity may begin to wane. Here are a few facts and figures to illustrate the current rate of growth with predictions of the experts:
The Land Registry's UK House Price Index shows UK property prices have increased by 1.2% month-on-month and 7.6% year-on-year in November, to reach £249,633.
Rightmove's more up to date figures (though based on asking prices rather than sold prices) shows that in January 2021, average asking prices had dropped by 0.9% but risen by 3.3% year-on-year.
Rightmove also said the average time to agree a sale was only 57 days in December, compared to 71 days at the same time last year.
Rightmove predicts house prices will rise by 4% in 2021.
Rightmove also predict a lull in the second quarter
Zoopla predicts annual house price growth will reach 5% in February, slowing to 1% by the end of 2021.
Halifax says house prices will fall by between 2% and 5% this year.
Savills and Hamptons both think house prices will remain the same in 2021.
The Centre for Economics and Business Research (CEBR) predicts house prices could fall by 5%.
Compare Conveyancing fees online with our easy to use conveyancing tool. Every conveyancing solicitor's quote is tailored to you and is totally free from obligation.
The Stamp Duty Holiday And House Prices
Since the Stamp Duty Land Tax (SDLT) Holiday was introduced, month on month house sales have skyrocketed. Home buyers and sellers should be warned, say local conveyancing solicitors, that delays in the conveyancing process mean that there is a real chance they will miss the 31 March deadline, meaning they could miss-out on the savings of as much as £15,000 for a £500,000 property.
In the short term, this could theoretically make house prices rise. Buying a home based on the stamp duty cut could be a dangerous move, as you might pay a premium now and then see the property's value fall later on.
Is It Too Late To Take Advantage Of The Stamp Duty Cut?
Local Conveyancing solicitors have warned property buyers that they risk missing out on the stamp duty holiday because of increased pressure experienced by the industry, created in part,  by the introduction of the Stamp Duty Holiday.
The Stamp Duty Land Tax holiday and the impact of Covid-19 in general on the legal profession has resulted in conveyancers being pushed to the limit. Not only are there new challenges to those involved with the conveyancing profession, but the dependence on external parties to progress transactions for similar reasons, is causing issues to conveyancing experts.
In fact, a group of 14 trade bodies from across the industry wrote to the Chancellor in November asking him to extend the tax break by at least another six months. An online petition resulted in the topic being debated by MPs earlier this month. But So far, calls to extend the deadline beyond 31 March have been rejected.
There are currently 613,000 'sold subject to contract' properties awaiting completion. This means if you make an offer on a property now, you're highly unlikely to get the transaction completed before the deadline.
Estate Agents And Lockdown.
People have been wondering how the process of viewing houses might go ahead under the current  Government guidelines surrounding Covid-19
Current guidance states that estate agents are able to visit your home in order to take photos and videos, prospective buyers are able to come and view your property and removals companies are able to facilitate moves.
Paramount though, is the safety and wellbeing of everyone involved. Although there is currently more freedom to move home, public health and Government guidance must always come first. Social distancing measures must be observed and any physical appointments should be postponed immediately if anyone is self-isolating or showing symptoms of coronavirus.
Has The Pandemic Affected Mortgage Deals?
Since the pandemic began, the number of mortgage deals on the market has halved. There are however, plenty of good rates still out there, even more so if you have a bigger deposit.
According to Experian, the coronavirus lockdown affected mortgages in several different ways.
Mortgage approvals fell – social distancing rules meant lenders were unable to carry out physical valuations of properties. This has meant mortgage approvals fell.
Lenders tightened their lending criteria – many lenders have increased the deposits they require for their mortgages.
Some lenders pulled mortgage deals from the market because of the uncertainty, reducing the number of options for customers shopping around.
Mortgage holidays boomed – more than 1.6m homeowners took a break from repaying their mortgage due to the impact on their income.
Interest rates fell – with the Bank of England cutting the base rate to 0.1% mortgage interest rates have fallen.
Compare Conveyancing fees online with our no obligation conveyancing tool. Every conveyancing solicitor's quote is tailored to you and only takes a couple of minutes to use.